The competition to Reimagine Croydon's Subways has ended, and the winners are listed below. Thank you to all the participants for the creative entries, to everyone that commented on the submissions, and to our local partners for spreading the word.
The winners and runners up are split into 3 categories:
professional
non-professional
under 18s
This has been an exciting project, and now we are working to see if we can bring some of these fantastic ideas to life. 
Professional
Winner: Croydon Lives, by Abigail Watts-Cherry, architect
Image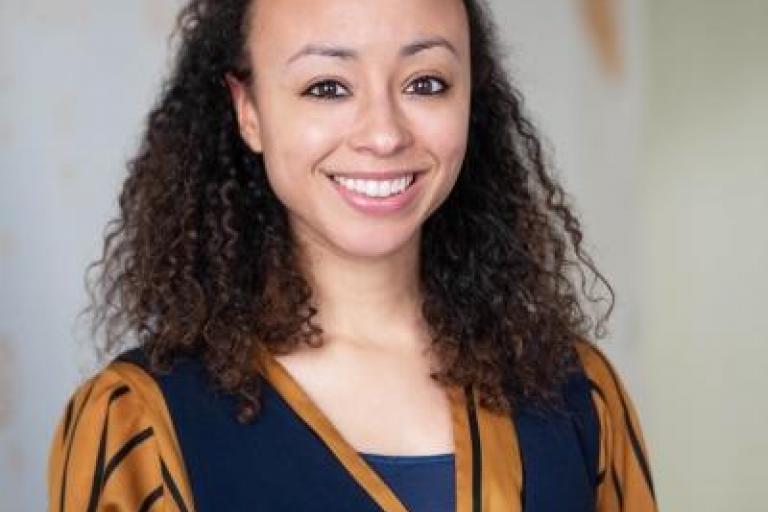 Abigail is an architect with experience in a wide range of sectors including mixed-use, residential, transport, education and restaurants. She uses digital design, architectural visualisation and video-making in her design process. Through working on small residential projects across Croydon over the past few years, she has become familiar with the borough's Local Plan and future design objectives.
Image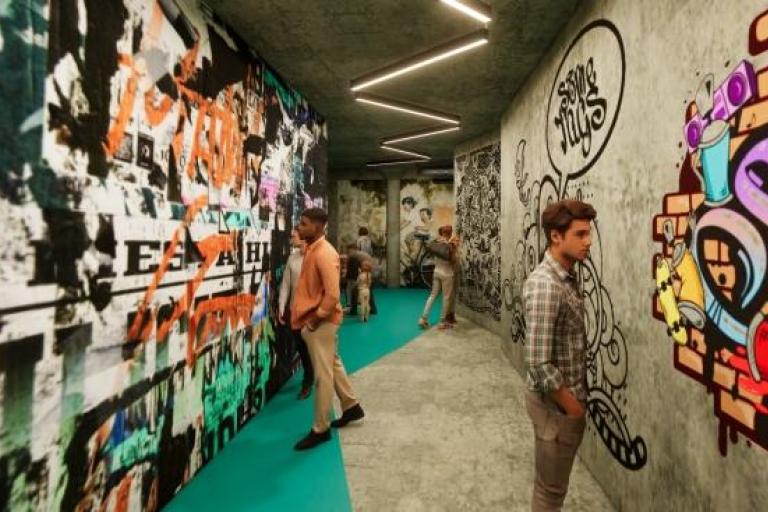 Image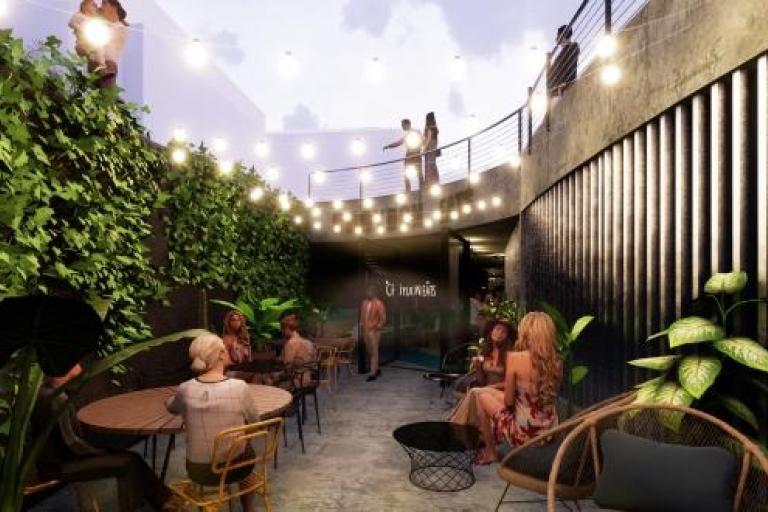 Image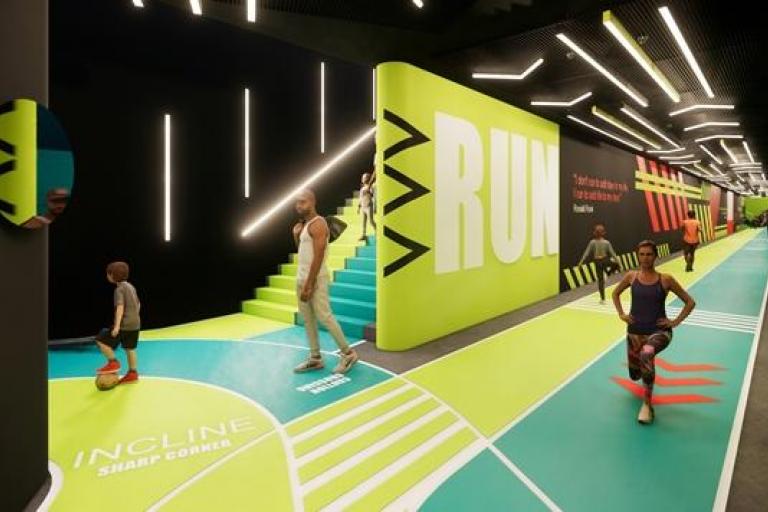 Image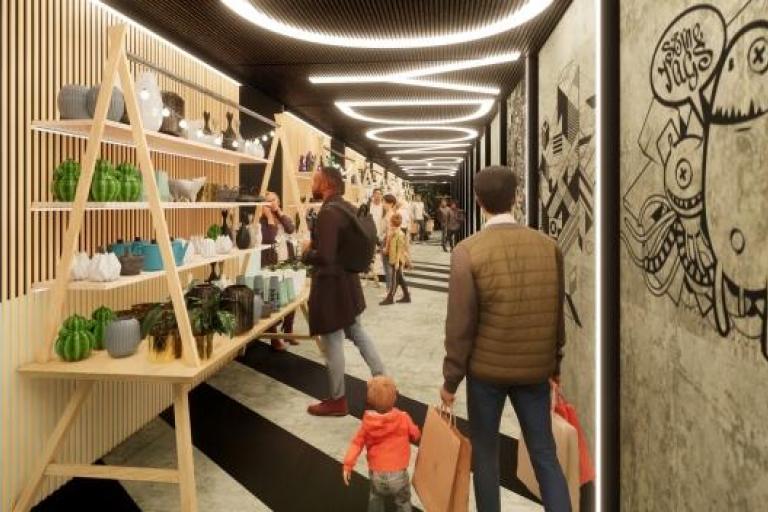 Croydon Lives
"A collection of interventions centred around local business and community; a Pop-Up Restaurant, Street Art Gallery, Running Track, Underground Cinema & Themed Market - each sharing the 'Croydon Lives' branding. I have a particular passion for Croydon - it is a great place to live as a young person and has a strong sense of local community, as well as a thriving urban art and music scene. I have seen the town transform dramatically over the past few years and I am excited by all of the new development yet to come. I really want to be a part of it." – Abigail Watts-Cherry.
Runner-up: Croydon's Talents, by Wesley Baker, artist
Image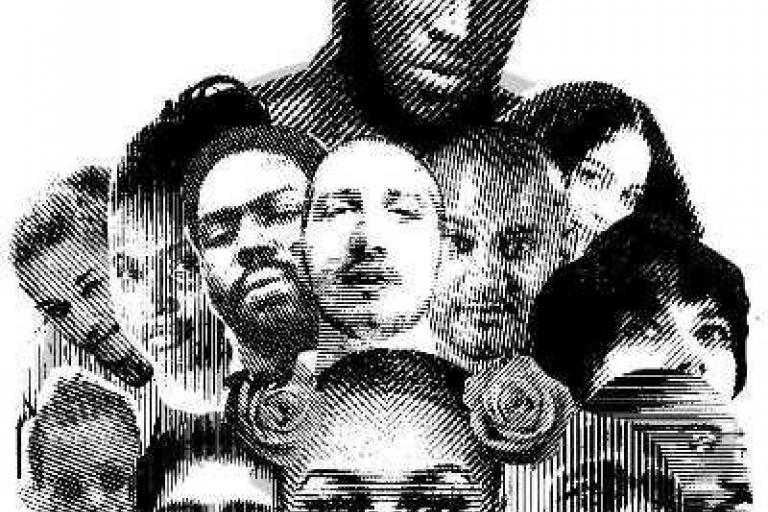 "My idea is to create a mural of creative people from Croydon. They'll be figures from our past, present as well as up and coming talent. You'll see people born in Croydon, those who lived here, and individuals associated with educational institutions like Brit School.
The idea is to use the subways almost like a hall of fame to create a composition like the iconic Beatles Sergeant Pepper album cover. Part of the battle of reimaging Croydon and changing the perception crafted over decades is to shine a light on the people of the area. If you can't see it, you can't be it. Making it publicly known that Croydonians are greater than a perception of the area and that you can achieve or start on the road to it can go a long way for many wanting to follow in the same or similar footsteps." – Wes Baker
Non-professional
Winner: Subterranean Mushroom Farm, by Andrew Dickinson, urban farmer
Image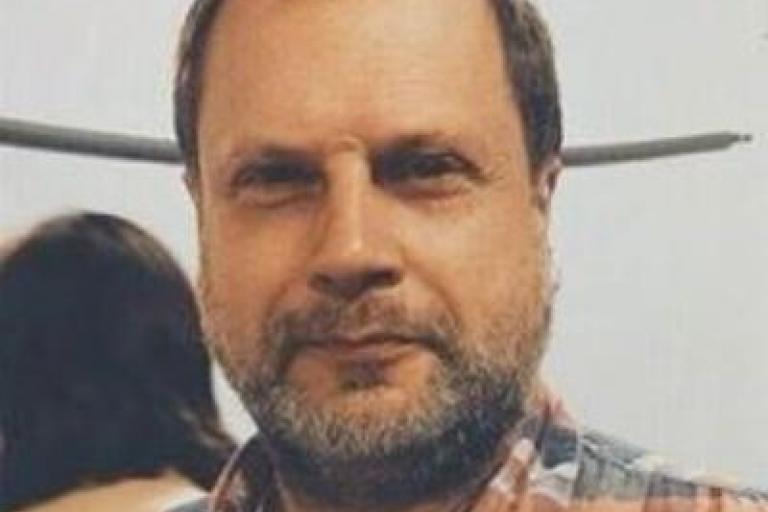 Andrew is a lifelong Croydon resident and he loves and cares about the borough that he call home. That's why he wears his 'I Love Croydon' badge every day at work. He is proud of the borough for a variety of reasons and loves its history – wanting Croydon to be the best that it can be for our people.
Andrew has been growing Cr'oyster mushrooms by the Croydon Minster, and hopes to move his operation into the subways.
Subterranean Mushroom Farm – "Cr'Oyster Mushrooms"
Image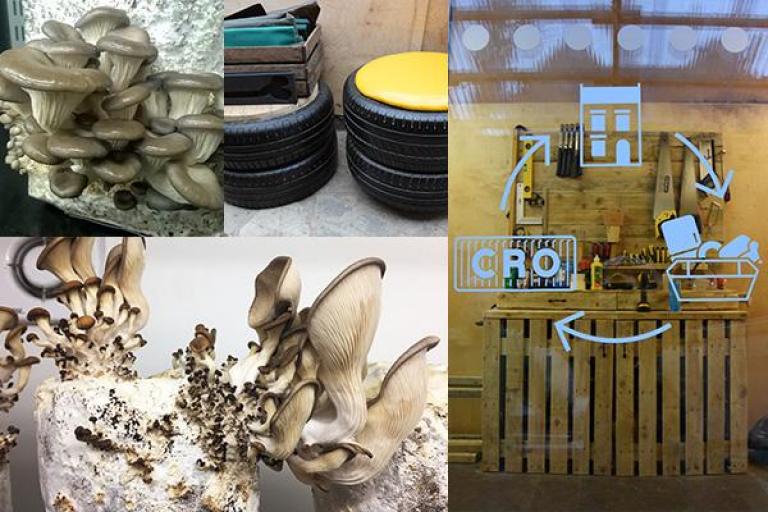 "Large amounts of used coffee grounds could be collected from town centre retailers, as they are a perfect substrate for the oyster mushroom (or Cr'oyster mushroom). This would deal with an ongoing waste issue – but it would be making use of that waste as close as possible to where it is produced. The mushrooms would then be sold to restaurants and cafes around the borough, and Croydon would be known as a producer of oyster mushrooms. It would be a modern addition to its history of saffron, lavender, poppies and wood production." – Andrew Dickinson
Watch the Cr'Oyster Mushroom video. Video by Aidila Razak.
Under 18s
Winner: Drone Races by Gemma, age 12
Image
Gemma loves living in Croydon because of all the different people you meet, the good schools, and all the parks and woodland. Gemma is a student at Riddlesdown Collegiate.
Drone Races
"My idea is for drone races to be held in the subways. There would be LED lights and the first drone to get through the tunnel without touching a light beam wins. You pay to play." – Gemma
Image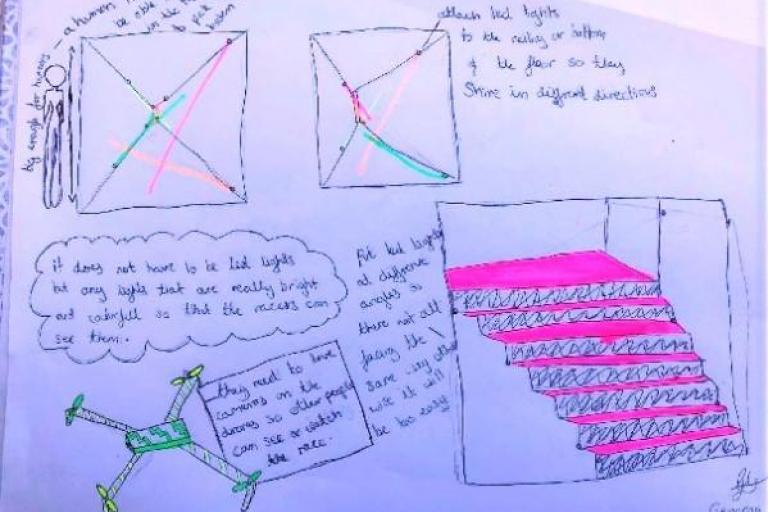 About the competition
Croydon town centre has a number of pedestrian subways, a legacy of the radical redevelopment of Croydon in the 1960s that focused on vehicle travel. New crossings are now replacing these unfriendly spaces, making them redundant. This provides the opportunity to find new ways to put them to better use.
This movement is taking place all over London. For example, in Clapham an old public lavatory has been renovated into a wine bar, and a tunnel in Waterloo has been transformed into a theatre.
Croydon council asked the public to send in their ideas on how to reimagine the old subways and bring them to life with a refreshing new use.
Reimagining Subways project brief (PDF, 5.1MB)
Reimagining Subways competition terms and conditions (PDF, 131KB)
The public was then asked to provide comments on 13 shortlisted entries, and the submissions were posted as an exhibit outside on the hoardings at Fairfield Halls, as well as in the Croydon Clocktower.
Winners and a runner up were announced on 27 February 2020. The winners of the professional and non-professional categories received a £500 prize, the winner of the under 18s category receiving a £500 donation to a charity of their choice. The runner up in the professional category received a £100 prize.
View all submissions
Ideas Competition - Subway submissions
Contact
For competition enquiries contact the Growth Zone team at growthzone@croydon.gov.uk.
Subway locations
The subways are located at:
Minster: near Croydon Minster, Church Street, Croydon CR0 1RN
Old Town Roundabout: near Croydon Fire Station, 90 Old Town, Croydon CR0 1AR
Park Lane Gyratory: near Fairfield Halls, Park Lane, London CR9 1DG
Addiscombe Road: near No. 1 Croydon, 12–16 Addiscombe Road, Croydon CR0 6SD
Lansdowne Road: near Jurys Inn Croydon, Wellesley Road, Croydon CR0 9XY
Segas House: near Nestlé Tower, 61 Park Lane, Croydon CR0 1YL