Image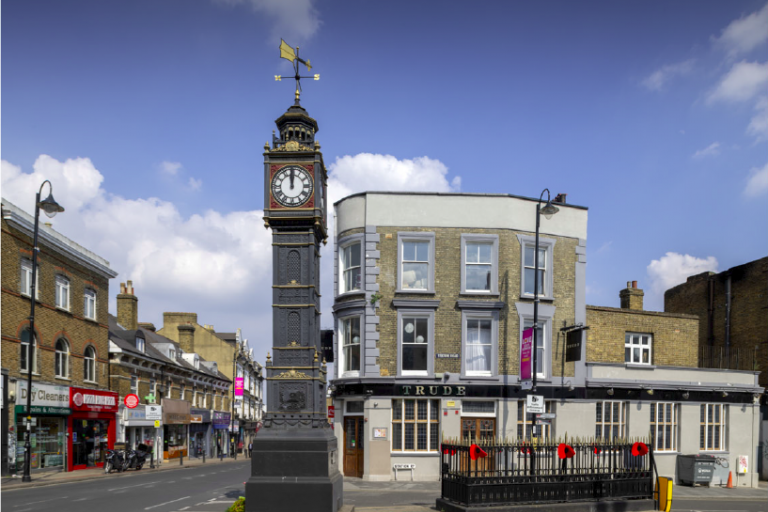 South Norwood Clock Tower. Copyright 2021 Chris Redgrave / Historic England
About South Norwood
South Norwood is located 3 miles north east of Croydon town centre, with Norwood Junction railway station at the heart of the High Street - the busiest station outside of central Croydon. It benefits from a number of attractive green open spaces including South Norwood Country Park, South Norwood Lake and Grounds and South Norwood Recreation Ground. The BRIT School is notable for its famous performing alumni and nearby Selhurst Park is home to Crystal Palace Football Club.
South Norwood Regeneration Programme 
Image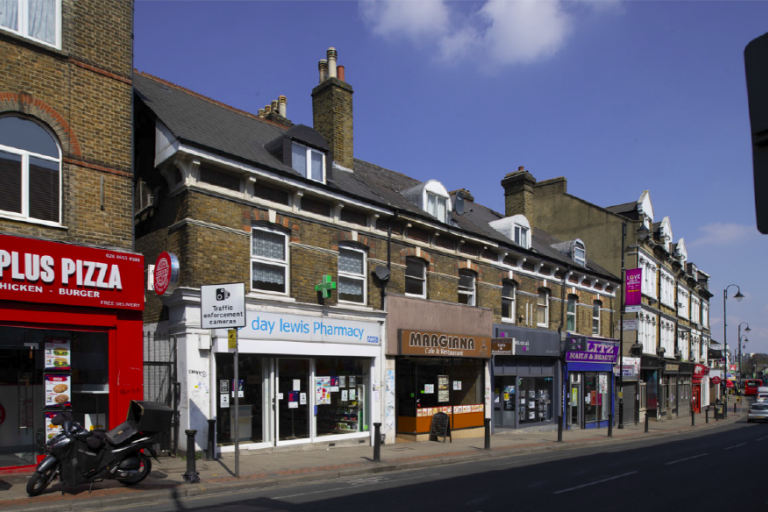 South Norwood High Street. Copyright 2021 Chris Redgrave / Historic England
The South Norwood Regeneration Programme is a £2.4 million programme funded by the Mayor of London's Good Growth Fund and Historic England's High Street Heritage Action Zone. It aims to revitalise South Norwood's high streets and celebrate the area's rich heritage and culture, creating a place where people and businesses can thrive. 
Continuing the work of the South Norwood Community Plan, the regeneration programme is improving buildings and public spaces, supporting local businesses to establish and grow, and empowering the community network. 
What's happening?
Here are some of the projects happening within the regeneration programme: 
A grants scheme to improve high street shops and building facades
Supporting businesses to turn empty commercial units into new retail and workspace
Working with the community to enhance the public realm of the high streets
A comprehensive programme of business support for new and existing businesses, with programmes to support the Clock Tower Market and creative enterprises
Supporting South Norwood Business Network with the launch of the Love South Norwood app – free to download
Community groups
We are working with community groups to improve access to and flexibility of their existing community spaces, including: 
We are also working with 6 community groups to develop their organisations and sustain the programme benefits in to the future:
Conservation and heritage
We are refreshing South Norwood's heritage conservation plans.
There is a programme of events and activities to explore local heritage: 
Capturing the oral history of our area, sharing your stories and memories of the high streets and what they mean to you
Relaunching existing and new heritage trails through South Norwood
Launching new cultural and arts walks and working with community groups to create more public art in South Norwood
Workshops on practical conservation construction skills and heritage skills
Sharing the skills and knowledge to preserve the heritage character of the high streets
Promoting apprenticeship opportunities within the construction, conservation, retail and hospitality industries
Supporting a community-led Cultural Programme celebrating South Norwood's heritage
Image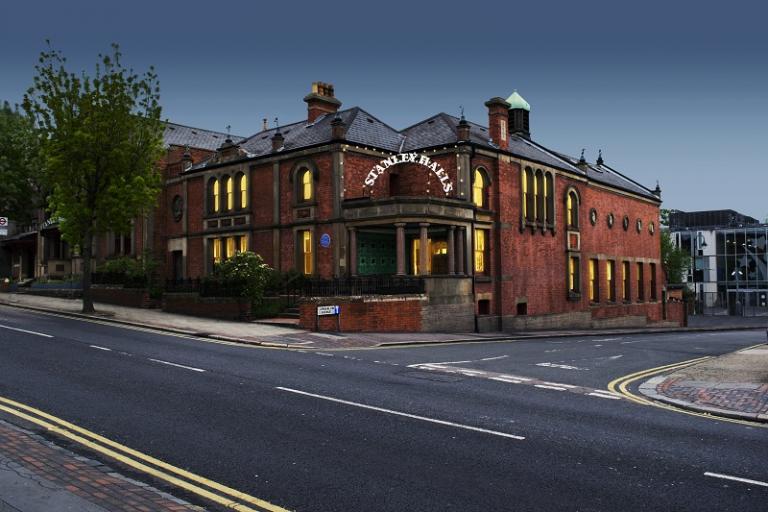 Mayor of London's Good Growth Fund 
The Mayor of London's Good Growth Fund is dedicated to supporting the regeneration and improvement of high streets across London, creating thriving businesses and empowering local people to shape the changes in their area. In South Norwood, this fund is delivering public realm improvements, creation of workspaces and creative hubs, improving the look of shop units, supporting resilient, sustainable businesses and growing the community network.
South Norwood High Street Heritage Action Zone
South Norwood is one of Historic England's 68 new High Street Heritage Action Zones. £1.1 million has been awarded  to unlock the potential of South Norwood's high streets, fuelling economic, social and cultural recovery and breathe new life into the area for future generations. 
South Norwood boomed in the 19th century with the arrival of the railway, and its centre is predominantly composed of original buildings, dating from the 1840s to 1910, many of which retain their original features. South Norwood's conservation area is currently on Historic England's Heritage at Risk Register and the aim of the programme is to restore it to its original vibrancy and remove it from the register.
The Heritage Action Zone (HAZ) boundary includes Station Road, Selhurst Road from the Clocktower to Samuel Coleridge Taylor Centre, South Norwood Hill up to Stanley Arts, High Street from South Norwood Clocktower to Goathouse Bridge and Portland Road starting from the junction with the High Street to the junction with Coventry Road.  
Image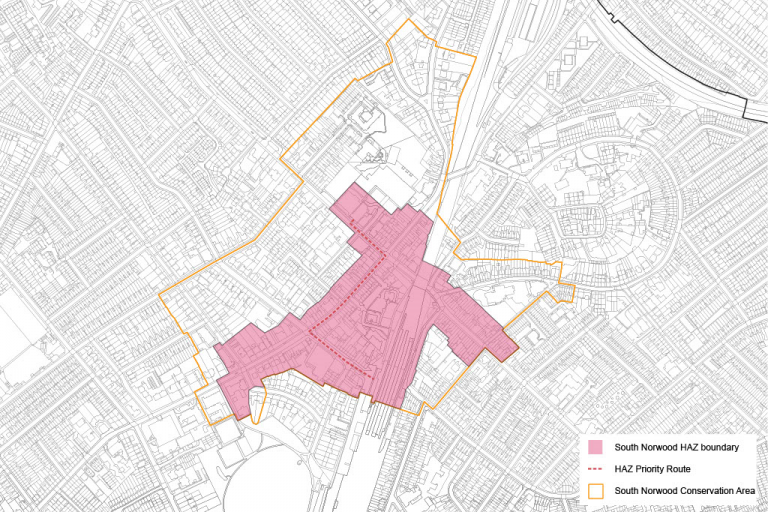 South Norwood HAZ Boundary Map. Historic England
LEAP 
The London Economic Action Partnership (LEAP) is the local enterprise partnership for London. It brings entrepreneurs and business together along with the Mayoralty and London Councils to identify strategies to support and boost economic growth and job creation in the capital.
We Love SE25
We Love SE25 sits at the heart of the vision for community cohesion in South Norwood. It is a membership organisation made up of local community organisations, businesses, faith groups, schools, resident groups and local councillors. It meets quarterly and has an executive of seven volunteers, elected by its members.
In 2018, Croydon Council worked in partnership with We Love SE25 to develop these projects into a framework for regeneration plans and published the South Norwood Community Plan. The council secured funding from the Good Growth Fund to deliver some of the initiatives, focusing on the high streets of the district centre.
For further information please contact the South Norwood Regeneration Team:
Michelle Normanly 
Regeneration Manager
Tamara Amarquaye
Business Engagement Officer
Newsletter and magazine
Read previous issues of our South Norwood Regeneration Magazine for updates on projects happening within our programme. 
You can sign up for our e-newsletter for the latest news about the South Norwood Regeneration Programme.