Arms of the Coulsdon & Purley
Coulsdon and Purley Urban District came into being on 1 April 1915, and ceased to exist on 31 March 1965. It was made up of the parishes of Coulsdon and Sanderstead, with the addition of Farleigh from 1933. Farleigh was not, however, brought into the new London Borough of Croydon in 1965. The coat of arms was granted on 24 March 1953.
Image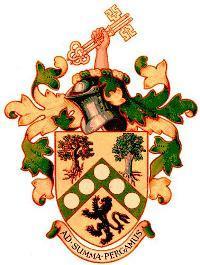 The blazon (technical heraldic description) reads as follows: 'Or, on a chevron vert, between in chief an oak tree and a beech tree both fructed and eradicated proper, and in base a lion rampant sable, five plates. Crest: on a wreath of the colours, a cubit arm proper, in the hand two keys addorsed in bend sinister, the bows interlaced and wards upwards argent.
Motto: Ad Summa Pergamus - Let us press on to the Highest.
The Shield is yellow (or gold), with a green chevron (inverted V shape) on it. The yellow field, and chevron pattern, are taken from The Arms of Merton College, Oxford, which has owned the manor of Farleigh since the thirteenth century. The chevron is green, to represent the Green Belt, and the hilly nature of the district, in particular the hill of Cuthraed's Dun, from which Coulsdon's name is derived. Above the chevron are an oak tree and a beech tree (representing the wooded nature of the locality in general, and Purley Oaks and Purley Beeches in particular). Below the chevron is a black lion (taken from The Arms of Hyde Abbey at Winchester, which owned the manor of Sanderstead in the middle ages). On the chevron are five silver (or white) discs. These suggest pearls, a play on the name of Purley, the fact that there are five of them indicates the five main communities of the district, Coulsdon, Kenley, Purley, Sanderstead and Selsdon.
The Crest (on top of the helmet) consists of a forearm holding two silver keys. The forearm is taken from the crest of the Atwood family, who owned the manor of Sanderstead in the seventeenth and eighteenth centuries, and who are recorded in both Sanderstead and Coulsdon in the fourteenth century. The keys are derived both from The Arms of Chertsey Abbey, which owned the manor of Coulsdon in the middle ages; and also from The Arms of Hyde Abbey, which owned Sanderstead. The Wreath (the twisted cloth band on which the crest rests) and Mantling (the decorative cloth flowing from it) are green and gold.