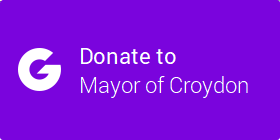 Croydon is a diverse borough and we are incredibly fortunate to have so many different charities helping people with different needs. For this reason, Mr Mayor has chosen five amazing causes to benefit:
Mind in Croydon, which promotes good mental health and seeks to empower people to lead a full life as part of their local community.
Croydon Vision helps those who are blind or visually impaired and their families, encouraging greater independence, confidence and development.
Apasen International (Croydon branch) is a social care provider offering personalised support to meet the needs of vulnerable people.
Ashdon Jazz Academy provides support to vulnerable young women and girls who may be suffering from self-esteem issues, feelings of isolation, peer pressure, relational bullying, family breakdowns, stress and anxiety.
Croydon Refugee Day Centre is a safe, friendly meeting place offering practical advice and support to all asylum seekers and refugees.
A message from Mayor Humayun Kabir:
"I am keen to harness the strength of our local community in fundraising, and encourage civic pride, in particular, the talents and energy of our young people. I will therefore be introducing an ambassador's scheme to aid fundraising for these causes and will be seeking volunteers of all ages. If you are interested in becoming an ambassador for the Mayor's charity please contact the.mayor@croydon.gov.uk."
Contacts
The Mayor's Parlour
Address Line:
Town Hall
Katharine Street
Croydon
CR9 1XW