Crystal Palace and South Norwood Low Traffic Neighbourhood
Update January 2021
The council's Traffic Management Advisory Committee (TMAC) will meet on 15 February to consider an updated report / recommendations for the future of the Temporary Low Traffic Neighbourhood. Recommendations for a replacement scheme came to the Advisory Committee on 12 January but no decision was reached at that time.  The report recommendations included replacing the current scheme with an experimental scheme to run for up to 12 months.  The experimental scheme would rely on camera enforced 'No Motor Vehicle' signs in place of the current 'planters' restricting motor vehicle movement.  Motor vehicles belonging to residents living within the trial area would be exempt from the camera enforced restrictions, as would a number of other types of vehicle, including those used by the emergency services.  The exemption would also apply at the camera enforced 'bus gate', which would be relocated within Auckland Road to aid car access to the Auckland Surgery.  
The recommendation to remove the current temporary LTN scheme has now been agreed but the decision included a request for further information to TMAC regarding the recommendation to implement the experimental scheme.  This will now be considered by TMAC on 15 February.   It provides the opportunity to consider further exemptions (for example for school staff and for caregivers) and the impact (if any) of the recent high court judgement against Transport for London's and the Mayor's Streespace Plan for London and the guidance to local authorities implementing the Streetspace programme.
The decision to remove the temporary scheme will see the current planters and bus gate removed within the coming days, leading to a return to through traffic.
If the recommendations regarding an experimental scheme are accepted following the TMAC meeting, further consultation would be carried out and the result of the experiment would be considered before any decision is made about making the scheme permanent
Background to the Crystal Palace and Upper Norwood temporary Low Traffic Neighbourhood
At the start of lockdown in Spring 2020, we quickly moved to stop through traffic using certain streets, this allowed us to increase space available for people to walk, cycle, exercise and socially distance as required by central government and Transport for London. The aim of this Streetspace temporary scheme is to provide space for residents to exercise, play, walk and cycle while social distancing reduces capacity on public transport.
In Crystal Palace and Upper Norwood, public transport usage is usually very high. But social distancing has reduced capacity by 70%, and many people are now seeking alternatives. Many households in Croydon do not have access to a car. For those that do, Croydon does not have the road capacity and would face detrimental environmental challenges if all their journeys were to be made by car.
As London began to come out of the initial lockdown, the council and Transport for London became very concerned that even a small increase in the percentage of people choosing to use cars for their daily travel could result in significant traffic congestion, noise and air pollution on the borough road network.
Without a reduction in motor traffic and a shift toward more sustainable forms of transport, we will not meet our climate and healthy lifestyle goals, so it's important that we prevent a car-based Covid-19 recovery.
We are also taking into account the concerns that residents have expressed for many years about the volume of motor traffic in the area, often speeding through quieter residential streets that are also home to several schools.
Image

What's been happening in and around Auckland Road and Lancaster Road
We have received numerous concerns over recent years about the levels and speed of traffic on Auckland Road and surrounding streets, such as Lancaster Road and Southern Avenue. We received further requests for action early in lockdown. The closure of Auckland Road/Lancaster Road was made easier as Auckland Road was already closed for works by Southern Gas Networks (SGN).
The temporary closures (including SGNs) meant that:
Auckland Road was much quieter and calmer
some nearby streets also became quieter and calmer, such as Southern Avenue
other nearby streets were getting more traffic, such as Sylvan Hill and Stambourne Way
the 410 bus route had to make an inconvenient diversion
Image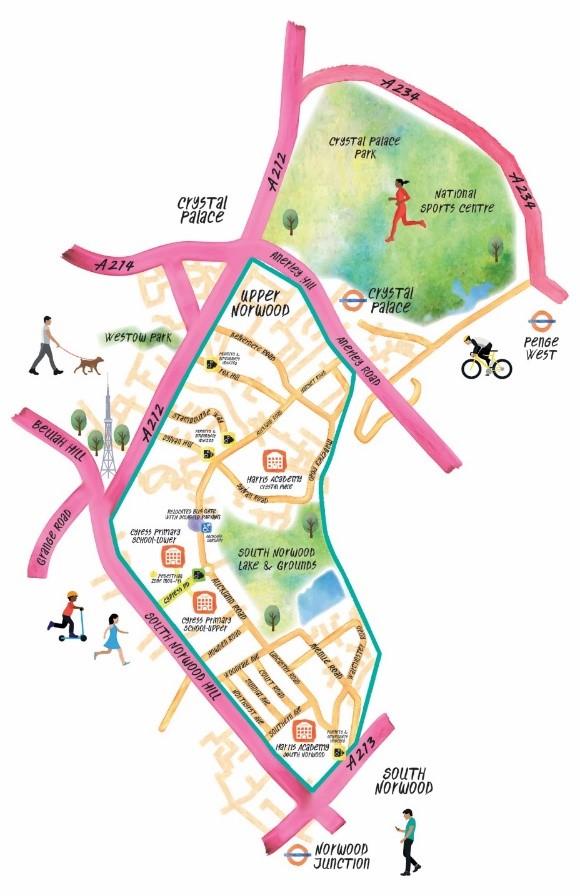 After the SGN works ended, we quickly moved to keep the street closed to support the government guidelines. We then worked to return the 410 bus to its route on Auckland Road whilst keeping it closed to other motor traffic. At the same time we took action to remove through traffic from Sylvan Hill and Stambourne Way, and to protect Fox Hill from likely displaced traffic.
Why it matters
As the first lockdown eased, we were facing transport and social distancing challenges. Capacity on public transport is much lower than before, but we can't rely on more people using their cars for several reasons: 
Croydon does not have the road capacity or environmental capacity for everyone to drive
it would not help the many households in Croydon that don't own cars 
it would not help people become healthier and more active, moving around on foot or by bike and to otherwise exercise
We have an opportunity to make it easier and safer for people to walk or cycle more often to help avoid problems of increased car traffic, while giving many residents a better environment for exercising and staying healthy. This is particularly important during the current pandemic, as evidence suggests that healthier people have a better chance of recovering from COVID-19.
Image
Our goal was to keep the benefits to Auckland Road and its surroundings without having a negative impact on other roads or the bus route.
All this was happening whilst Church Road was partially closed with temporary traffic signals significantly reducing the capacity of the A212 and A214 at Crystal Palace
Image