What is the Local Strategic Partnership? 
Croydon Council's Local Strategic Partnership (LSP) was first set up in 2008/09 to take a long term strategic view of the borough, and to produce the Community Strategy. It brings together the many organisations and communities involved in the decision making which affects the wellbeing of those who live, work, school and visit the borough of Croydon. The partnership ensures a focus on the priority issues that support Croydon in achieving the vision and objectives set out in the Community Strategy, allowing services to work together more effectively.                                                                                          
Image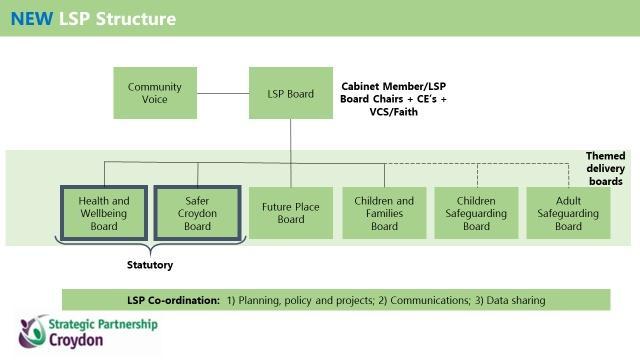 The LSP partnership is made up of businesses, voluntary groups, private and public sector organisations working alongside Croydon citizens. It is made up of senior council, board or staff to make sure that the partnership has the authority to commit resources needed to turn the partnership's objectives into reality. Working together, the LSP is able to put ideas, strategies, and services into action at a local level to the benefit of Croydon's local communities.
Croydon's LSP has recently undergone a review and its structure, format and membership has been updated to improve delivery. 
What does the LSP do?                 
Its main purpose is to:         
Identify and understand the major medium- and long-term challenges faced by those who live, work and visit the borough working with partners to overcome challenges
Work with partners to decide local priorities and monitor their delivery
Collectively agree a long term vision for the borough, through the development of the Community Strategy, and establish how this will be achieved
Oversee the individual contribution of partners to the Community Strategy and other partnership objectives
In other words, the LSP provides leadership by uniting different stakeholders in finding answers to Croydon's economic, social, health, safety, and environmental concerns.
What is the LSP Structure?
The LSP is made up of a number of themed partnership boards, each with their own members, terms of reference and responsibilities. These boards represent health, housing, police, London Fire Brigade, employment, education and local community, voluntary and faith groups. 
Meetings of the LSP Boards take place four times each year. Some are open to the public whilst others remain closed (such as safeguarding boards), due to the confidential nature of matters being discussed and the need to protect privacy.
Board membership is reviewed every 2-3 years.                           
To learn more about the partner boards, their specific objectives and key documents, follow the relevant link below: 
LSP Board (this board has strategic oversight of other boards)
Themed Boards
Contact
To contact us about the LSP and its partner boards email us at lsp@croydon.gov.uk.
Key LSP Strategies & Plans include:
Young Persons Plan (currently being developed)